We often attend to home owners having electrical issues which need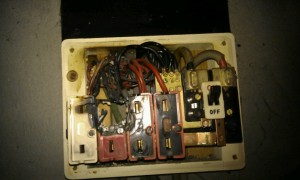 urgent attention.We have over 2o years experience of dealing with electrical faults. Remember electricity can be dangerous, do not try forcing a circuit breaker to stay in position or putting a bigger fuse wire in place as this could result in a fire. Remember the fuse is a safety cut out and breaks the circuit because there is something wrong with the circuit not the fuse. All our electricians are experienced and  fully qualified to the latest standards. In an emergency we aim to be there within 2 hours. The list below highlights issues often faced by customers. If any assistance is required please do not hesitate to contact us. Call now on 01482 440210 or email on info@abbeyelectricalservices.co.uk.
1) Loss of power to sockets.
2) Loss of power to lights.
3) Fuses tripping off.
4) Smell of burning.
5) Electric shocks from sockets and switches.
6) Crackling noises at sockets and switches.
Click here to see our sample of domestic work carried out in the past.