We carry out PAT Testing for Businesses, Charities and Landlords on a daily basis. There are many reasons why you may require PAT Testing and we have listed some below. We are NICEIC registered with over 25 years experience carrying out Portable Appliance Testing. There is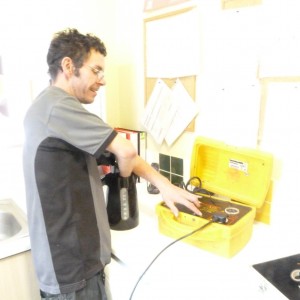 also a detailed list of frequently asked questions you may find helpful when considering PAT testing. Prices vary depending on the number of appliances to be tested. We work closely with customers to ensure an efficient and low cost service is provided. To receive a free no obligation quote please do not hesitate to call now on 01482 440210 or email us at info@abbeyelectricalservices.co.uk
Why PAT Test?
Businesses, Landlords and Charities PAT test because they have a legal responsibility to ensure  the equipment they supply is safe for use. This responsibility is made clear under the Health & Safety at Work Act 1974.  PAT testing provides the business with a certificate which proves the business took steps to ensure the equipment it supplied was safe for use.  The certificate is evidence and may be of use in a court if facing legal action to prove the business took its responsibility seriously. Some insurance companies require PAT testing to be undertaken as a means of reducing risk.
1) Fully Qualified Approved Electricians.
2) Over 25 Years experience.
3) Competitive Pricing.
4) Fully Insured.
5) Quotation provided in writing upon request.
6) Certification provided on completion.
7) 6 Year NICEIC Platinum Promise covers all works.
8) Quality Assured using  NICIEC Registered electricians.
9) We register the work for compliance with Part P Building Regulations.
10) Trust Mark Registered. Government endorsed standards for trade.
Who has PAT Testing done?
Businesses, Charities and Landlords get PAT testing done. This is because they have a responsibility to ensure that electrical equipment they supply to employees, tenants and the public is safe to use. They get a certificate to prove the equipment has been tested and safe for use. Examples of places we PAT test for are:
1) Offices with computers and other electrical equipment.
2) Tenanted Properties who supply appliances such as a washing machine.
3) Businesses with electrical equipment ranging from a hairdressers blow dryer to a mechanics lead lamp.
What is PAT Testing?
PAT test stands for "Portable Appliance Test". A PAT test is a series of checks and tests on an electrical appliance to ensure its safe for use.
A PAT Test includes:
1) Visual Inspection.
2) Earth Bond Testing.
3) Insulation Resistance Testing.
4) Load Testing.
5) Earth Leakage Test.
6) Basic Functional Testing.
How often should PAT Testing be carried out?
PAT testing should be carried out at regular intervals. The time between PAT tests is decided by the type of equipment and environment. A computer in an office is not as likely to require testing as often as a drill on a construction site because the environment is less onerous and less likely to receive damage. A computer in an office may need testing every 12 months and a drill on a construction site every 6 months. There is detailed guidance on how often various equipment should be tested and we can on request provide this information.
Click here for example of PAT Testing carried out previously.