We carry out Electrical Condition Reports/Surveys on properties on a daily basis. There are many reasons why you may require a report and we have listed some below. We are NICEIC registered with over 20 years experience carrying out inspections and providing reports. There is also a detailed list of frequently asked questions you may find helpful when considering a report. Prices vary depending on premises size and number of circuits. To receive a free no obligation quote please do not hesitate to call now on 01482 440210 or email us at info@abbeyelectricalservices.co.uk
Why have an Electrical Condition Report carried out?
1) Buying/Selling a property. Advised by surveyor/solicitor.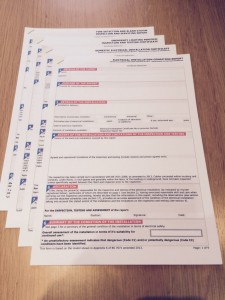 2) Considering a rewire but not sure how much needs rewiring.
3) If the property is of considerable age and you are concerned.
4) Property damaged after Fire or Flood.
5) If you are a Landlord. Insurance & Regulation Requirements.
6) Major alteration work is planned and it is considered beneficial to know the condition of the existing electrics.
10 Reasons to Choose Us?
1) Fully Qualified Approved Electricians.
2) Over 20 Years experience.
3) Competitive Pricing.
4) Fully Insured.
5) Quotation provided in writing upon request.
6) Certification provided on completion.
7) 6 Year NICEIC Platinum Promise covers all works.
8) Quality Assured using  NICIEC Registered electricians.
9) We register the work for compliance with Part P Building Regulations.
10) Trust Mark Registered. Government endorsed standards for trade.
Frequently Asked Questions
What is an Electrical Condition Report?
This is a survey of the electrical installation the results of which are recorded on a standard report. The surveyor visually inspects the fuse board and various circuits and tests using specialist calibrated test equipment. The survey is a standard report and is carried out in accordance with British Standard requirement BS7671. A sample of visual inspections are made behind sockets and switches and various test readings taken. The main purpose an Electrical Condition Report is to detect so far as is reasonably practicable, and to report on, any factors impairing or likely to impair the safety of an electrical installation.
How long does it take?
This depends on the size of the property. Most surveys are completed in a day but larger installations take longer.
What access do you need?
Part of the survey is to visually check a sample of sockets, switches, lights and it is usually necessary to have access to all areas to do this.
Will the power need to go off?
During the inspection and testing it is necessary to turn the power on and off at various stages of the inspection. The surveyor will discuss a convenient time for this first.
How will I receive my report?

We generally email the reports because this saves time for all concerned however we can post if you prefer.
Will you provide a quote for repairs?

We provide a free of charge written quote for any repairs identified.
Click here to see example of Electrical Condition Report carried out in the past.