Electrical Safety Audits are for businesses looking to comply with Health and Safety legislation in respect of electrical safety in the workplace. With so many rules and regulations surrounding electricity in the workplace the audit provides a clear starting point from which the business can see what it needs to do in order to comply. We often assist businesses with compliance checks when working toward ISO 9000 compliance requirements. We work with your business to identify which regulations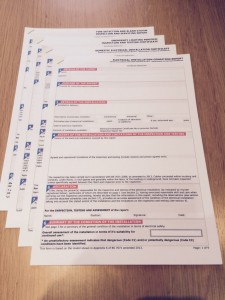 are applicable to your specific business. We are then able to put together and manage a recurring maintenance plan for ongoing compliance. We are NICEIC registered with over 20 years experience assisting businesses in this area. To receive a free no obligation quote please do not hesitate to call now on 01482 440210 or email us at info@abbeyelectricalservices.co.uk
An Electrical Safety Audit verifies what your business requirements are in respect of the following areas, some of which may or may not be relevant to your specific business. It also verifies how often each type of maintenance requirement needs to be carried out.
1) Electrical Condition Reports.
2) PAT Testing.
3) Fire Alarm Servicing.
4) Emergency Lighting Servicing.
Reasons to Choose Us?
1) Fully Qualified Approved Electricians.
2) Over 20 Years experience.
3) Competitive Pricing.
4) Fully Insured.
5) Quotation provided in writing upon request.
6) Certification provided on completion.
7) Quality Assured using  NICIEC Registered electricians.